FO #100
Finally!!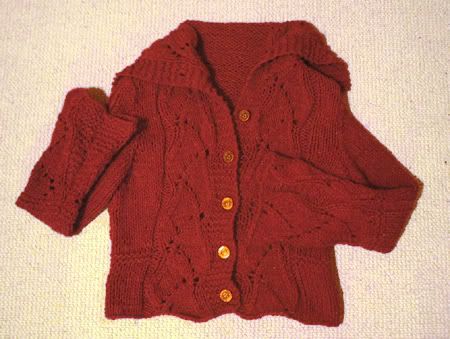 The boring stuff...
Fabulous Lace Inset Cardigan
, knit in Bartlett Yarns Fisherman Bulky (Garnet, 5 skeins) on US10.5 and US11 needles.
Pattern modifications and comments:
Charts are my friend. First I charted the lace pattern so I wouldn't have to work from written row-by-row instructions. Then I created a chart that mirrored the lace pattern, because it didn't seem right to have two identical lace panels opposite each other. So I used the mirror chart for the left front, and used it side by side with the regular chart for the collar and sleeves where two panels of the lace pattern were worked simultaneously.
The finishing instructions were very vague -- good thing I knew to block all the pieces very, very carefully before sewing any of them together, because it would have been a freaking nightmare otherwise. I actually had to block a few pieces more than once. I took 6 rows out of the bell portion of the sleeve because I just knew they would be too long. I wish I'd trusted the same intuition and added 6 rows (or more) to the body...but all in all the length is okay. It hits at my waist which would be great except the mock waist seam thingy looks a little out of place a few inches
above
my waist.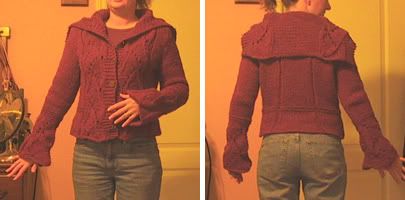 All in all, I like it, but I'm not GAH over it. The yarn is a bit itchy. I have to be careful what I wear under it so it doesn't look strange peeking out at the bottom. But it's a pretty sweater. If it were three inches longer I'd
love
it.