Trellis, take two
Ahhhh, much better: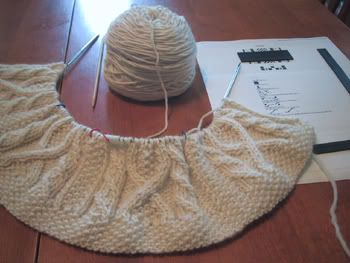 I frogged the green. And wound my three skeins of natural
100purewool
with my brand-spankin'-new swift. A much better choice!! I love love love knitting with this yarn. No more swearing. It was totally the yarn, not the pattern.
Ahhhh.
I had intended to dye this yarn, but it's just perfect for this sweater. It's every bit as scrumptious as Malabrigo, but a little bit lighter weight. If I could afford to buy enough to justify the shipping cost, I'd defenitely have a storage problem. I'm crossing my fingers for another co-op....