Wheel update
First and foremost, THANK YOU to everyone who has visited, told me I'm not crazy, linked to me, or donated to the
wheel fund
. I'm absolutely blown away! I've got a ways to go...and I have 650g of yarn to spin...but I don't yet have that "omg, what have I gotten myself into" feeling, which is good. I'm 41% of the way to my starter wheel...or 25% if I get the level-wind flyer. We'll see how much I can sell on eBay this week (yay for cleaning out the mystery bins) to help me along.
I've got freshly plied yarn to put in the mail to
Amber
tomorrow morning; there are gobs of roving for
Robin
either soaking, dyeing, or drying in various locations around my house; I'm stalking the mailman waiting for
Cate
's roving to come so I can start to dye it too....the list goes on.
I'll be spinning my heart out this week because once Friday comes it will screech to a halt for SOCK WARS! I'm dying over the timing here -- Thursday is my birthday, Friday is my daughter's (gulp) 6th birthday
and
the beginning of Sock Wars, Saturday we're having family over for both birthdays, Monday is the kid party. Hopefully the Int'l Socks of Doom will be simple enough for me to complete on Friday. A girl can hope, right? In my arsenal: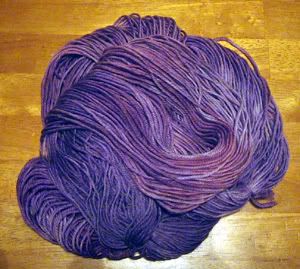 Now, to free up those US4 needles...