more plying
I wasn't sure about the color match on this one....my Jacob/Mohair had quite a few colors (colored mohair carded in with the wool) and I decided to go with plum (Merino 64s from the Yarn Tree). In retrospect I should have ordered purple instead of plum, but it's decent when plied together. Finally, a pic that show the colors pretty accurately:
Close-up, colors a little off: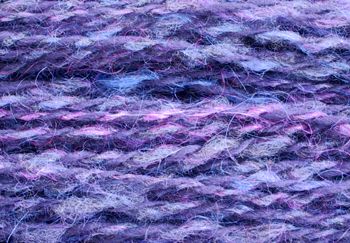 150 yards so far...I still have to spin a few more ounces of merino before I can ply the rest.
I was so geekily thrilled, I wanted to do a little dance when it came off the noddy all BALANCED and everything. It hung there like a real, respectable skein. Squee!!