I'm embarrased to share...
...that my first waking thought today was of spinning. I even briefly considered bringing my spinnig to the mall (instead of my knitting) but decided that it would be a bit much.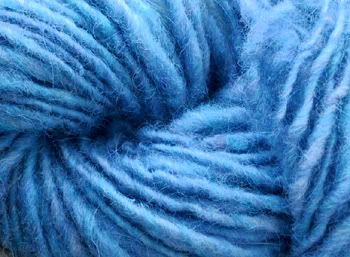 Needless to say, I'm really, really enjoying working with this fiber, even though I'm still having to park and draft. And I'm pleased to report that when I'm done with this roving, I'll actually be able to make something. So far I've been consistent -- about thirty yards to the ounce. I wish the photo showed all of the colors -- it's actually more of a teal-ish hue, with blues and purples too. Lovely stuff.