FO #67
A set for
DotMom
's Chemo Kid KAL: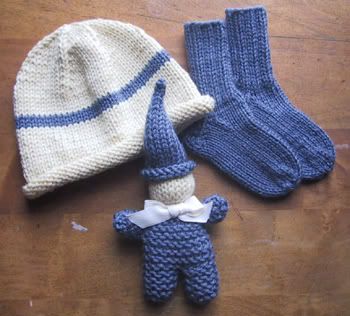 No patterns used, except for the
baby gnome!
(cute or creepy? you decide!) All knit in the loooovely Cashmerino Aran by Debbie Bliss. Colors 002 and 205. Socks on US4s and hat on US6s. Finished 1/22.
Usually I despise anything that takes longer to seam than it did to knit, but I couldn't resist the gnome, especially given the age of the recipient. ;) Nice little stash buster, there.