supersock
Lu
asked what I thought of the
supersock
...I actually like it a lot. It's a little finer than I'm used to -- they say it's "a little heavier than fingering weight" but I don't really buy it -- if I have to knit it on US1.5 needles (or whatever your gauge calls 2.5mm...they tend to disagree), it's fingering. Which taxes my eyes.
It's much, much softer than any of the superwash wools I've knit with so far. To me it feels more like a cotton-blend sock yarn than a 100% wool one. Not itchy at all.
I swatched it and yay, no pooling!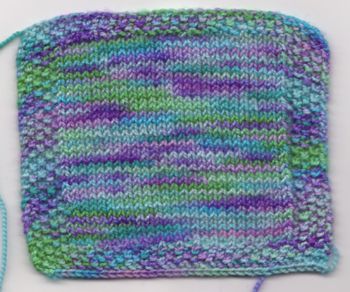 It's awfully ironic that I love to dye, as I really am not a big fan of variegated yarns. I much prefer the way they look before they're knit. Go figure....I'm already planning the next skein...