needle wrangling
So, I gathered from her survey that my SP-ee could use something to hold needles, so I decided to sew a little something for her. Never mind that she's a very accomplished seamstress and I'm, well, NOT -- I pushed my perfectionism aside and decided to give it a whirl. I kind of had to -- she's planning on becoming a boat-dweller and I had some vintage nautical toile in my fabric stash begging to be used.
I have this fabulous but very utilitarian [ugly] circ holder:
So my goal was to make something like it, but not so ugly. I also knew that it didn't have to have as many slots because she doesn't prefer knitting with large needles so probably wouldn't need to have them on hand at any given moment. I ended up with this:
And on the back, there are pockets for DPNs: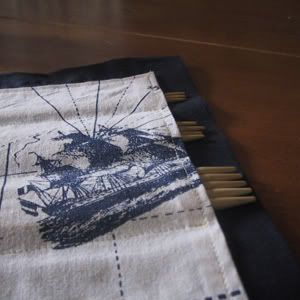 As long as you don't look too close, it turned out all right. ;) I'm a little stuck on the top...there's a dowel in there so it can hang without bunching, but I'm not sure what the finishing touch is. Grommets? Buttonholes? Ribbon? Or perhaps I'll be lazy and leave it for her to decide...she's an accomplished seamstress after all.... ;) I really do have to get package #3 in the mail before I leave for vacation on Tuesday.