next...
I started the
Thinking Dress
from
Miss Bea's Rainy Day
last night. For some odd reason the BB6 live feeds were comin' through for free, so I got in some good knitting time, listening on my headphones and taking a break to
recap
occasionally.
I'm using Catalina Baby Pima, which is one of the most wonderful yarns I've ever knitted with. If I could afford it, and there were more colors available, I think I would knit everything, from now on, with this yarn.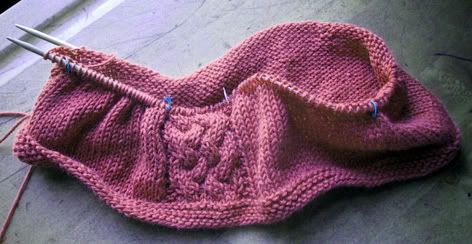 I had to dink with the hue and saturation in Photoshop to try and get the color to look remotely like it does in person. It's the loveliest berry color...not at all as pinkish as my camera would lead one to believe.