KO, day 10 / FO #74
The colors are still a little off -- the yarn is much more lavender-ish than these pictures show. But anyway, here it is....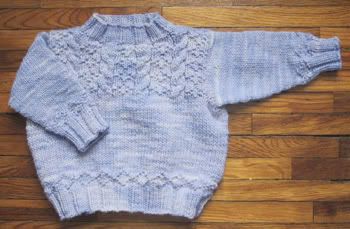 The boring stuff:
Cookie Sweater, from Louisa Harding's
Miss Bea's Rainy Day
Knit in mmm...Malabrigo worsted (color: Lavanda) on US6 and US8 needles
Pattern mods: knit in the round instead of flat. Increased sleeve circumference by 3 sts with no allowance for a selvedge stitch.
This was KO project #1, started Friday, 2/10, finished 2/19.